Abaya is not the dress, but it is the lifestyle
Why abaya is used for? Which abaya one should choose? Which style I should be designed? Which fabric is best according to different seasons?
In this article, you are going to get all the answers to these questions. You will also get abaya hacks and tricks. Wearing an abaya never gets old fashioned. It is not only the choice of females in the United Arab Emirates but also the love of every Muslim woman around the world.
Abaya is the top dress, that anyone can see. The right type of abaya is very important because it tells others a lot about your personality. So be careful about choosing the abaya style. You will get fantastic ideas later in this article. Abaya is not just about the style, but fabric, color, embroidery, and fittings also matter a lot.
Loose fitted, wonderful long dress, long sleeves, make women look like a 'princess'. Typically, abaya means to cover a girl's body and her figure. But in the modern era, women tend to use this as fashion also. Abaya may be open with or without buttons or closed abaya. Frock or gown type closed abaya is in the fashion all the time.
Fabric:
Let us talk about the fabric of your abaya. No matter, how expensive or beautiful your abaya is, you never enjoy this if it is uncomfortable. While purchasing or stitching an abaya, focus on the material or fabric of your abaya. It should be long lasting, as everyone knows that abaya is the thing of everyday use. Check out your weather condition. If there is summer almost all the time like in U.A.E., avoid going towards thick cloth or a warm one. You can never wear the wool abaya in summer. Do not wear abaya of fabric nylon, wool, polyester, or denim. Chiffon, linen, cotton, and silk fabric is more likely to wear in summer. Do not accessorize abaya. Keep your abaya light weighted. Many women have different abaya dresses for different seasons. In winter or rainy seasons: wool, denim, velour, jersey fabric is superb. Some women do not like to change abaya with the season.
Let's discuss some types of abaya according to style, fabric and color: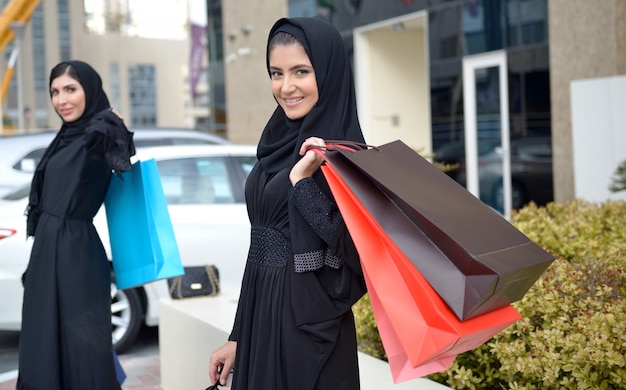 Black abaya:
It is the classic abaya and is likely to wear in all seasons, all nations, and in every part of the world. It is a highly demanded abaya. It looks best with every style and stuff. It is the key dress for the school going girls to keep themselves from getting noticed, it is best for funerals. There are many modifications present in the black abaya, people use to wear black abaya with embroidery on its neck and sleeves and customized with various designs. Its grace and mystery are above all. The best thing is that you can wear a scarf or hijab of any color.
Colored abaya dresses:
Some people need something unique, and different. People wear abaya at formal events like weddings, dinners, parties, etc. black abaya is too casual for that type of event. Wear abayas with different colors, motives, belts, and a touch of embroidery. In the case of colored abaya dresses, light-colored abaya dresses are preferable. Do not forget to match scarfs with these colored abaya dresses, as hijabs or scarfs with colored abaya needs to be more specific.
Dark skin tone: avoid using dark or loud colored abaya. It is too bold for your skin. A lighter shade will you're your look elegant.
Fair skin tone: try to use bright colors in an abaya. It will look more stunning.
If you are confused, about choosing a color that suits you, go for a black one. It will suit every skin tone and covers any event.
Fitted abaya:
Now talk about measurements. Do not stitch a tightly fitted abaya. Trying to be attractive, you'll look cheap and non-sense.
Do not wear an abaya that is too big for you. Wear an abaya with loose-fitting, 3 to 4 inches wider than the fitting of your inner dress, neither too big nor tight.
Design your abaya:
Search for a desirable abaya as you want to wear. If you could not find it according to your interest, buy the required fabric with motives (if you want) and sketch your style. Go to a tailor, show your design and give measurements. Problem solves. 😊
Customize your abaya:
Yeah…! Sew a pocket outside for fashion, or add pocked inside to keep your mobile and money secure. Add buttons, or zippers, else remove both of them, attach a hoodie in winters, add pearls, and many more.
Customization can be done on ready-made abaya dresses.
ANY QUESTION?
Tell us! Do you like this article? Feel free to contact us for any queries. If you have any other beauty tip and secret that is effective, Do message us. Kindly dm or comment to us, so that we share your tips with our beautiful readers.
We always welcome you warmly.
We are available for posting your tips and secrets of beauty with your name and picture.